For the early wearables kit, we are looking at wearable electronic technologies that precede Google Glass, bluetooth headsets, and even calculator watches. This semester, our Maker Lab team is designing and modelling a series of pieces based on electric jewellery invented by French engineer, Gustave Trouvé, in the 1860s and '80s. For example, we are making a light-up, filigree hair pin and a pocket pin with a skull gnashing its teeth.
As we are developing these pieces and the corresponding materials we plan to include in the kit, we are also working on the wearable kit's casing. In designing the case, we are striving to create a container that securely holds all content in place and can easily be mailed by post, while also modelling it so as to reference its historical and cultural context. This effort has led us to the following design approaches and decisions.
Victorian Aesthetic
While the case should be practical and durable, its aesthetic can also contextualize the early wearables kit in the historical period of Trouvé's work. To do so, we decided to style the case as a jewel casket. After all, jewellery cases have existed for a very long time and took a variety of new shapes and forms during the late 19th and early 20th centuries. Victorian jewel caskets were commonly made out of wood or metals (usually base metals such as spelter or antimonial lead) and then finished with gold, silver, ivory, or other painting and plating materials. A casket's exterior was often decorated with engravings or figurines, while the inside was decorated with silk, satin, or velvet lining. For our jewel casket, we will likely follow some of these Victorian aesthetic traits by using wooden materials and engraving the box with decorative and informative details, including Trouvé's famous pseudonym and signature, "L. Bienfait."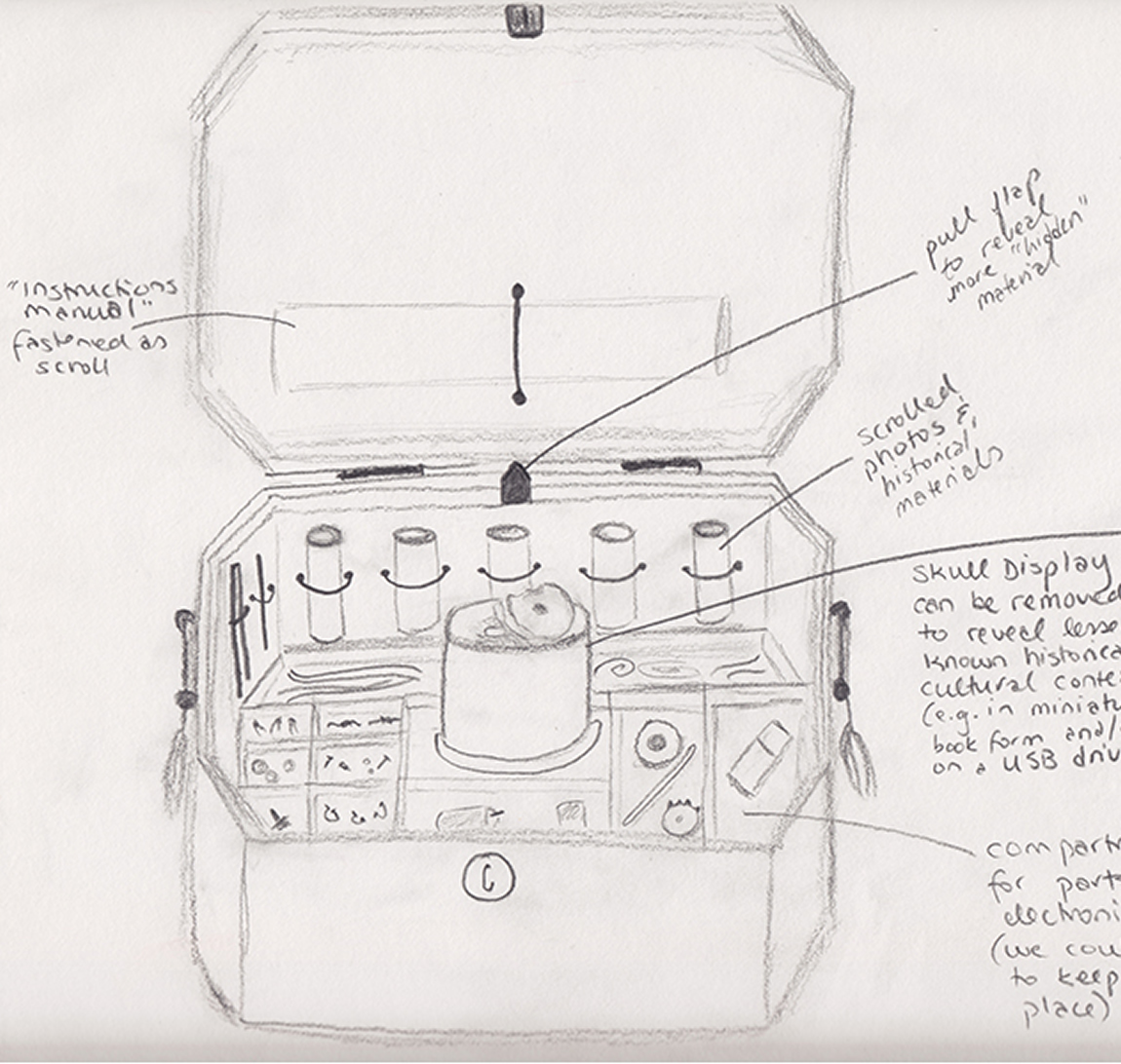 Manufacturing Approach
In order to produce and distribute a number of our kits both online and via the post, we are modelling them using computer-aided design software and manufacturing them using laser cutters and CNC routers. While this approach might seem anachronistic for Victorian-era jewellery boxes, it actually relates to the history of jewellery boxes in interesting ways. During the late 19th century and into the early 20th century, jewellery pieces, small knickknacks, and decorative cases became increasingly available to a broad number of audiences. With the development of new manufacturing equipment and techniques, small pieces could be produced faster and cheaper than before. By extension, jewellery shifted from being a luxury that only a very small group of people could afford to a fashion accessory that was expected among certain circles and at certain occasions. For elegant storage, people acquired jewel caskets or smaller metal or porcelain trinket boxes to display on shelves in their home. While our methods and tools are clearly different from the ones used during the 19th century, our approach is similar in that we are also using technologies to allow for wider circulation, thereby making our pieces more readily available (or so we hope!) for production and use.
Structure and Use
In order to keep the content of the kit organized and secure, the jewellery box will contain removable and sliding compartments, lids, and drawers. While, in the late 19th century, small trinket boxes without compartments became increasingly popular for storing jewellery and other small pieces, jewel caskets with compartments and puzzle boxes also remained popular. Furthermore, display cases were often uniquely designed for specific jewellery pieces and showcased these piece in extravagant ways. By combining features of display cases with compartments, we hope to create a structure with layers of access in the box. The process of exploring the history of these electronic pieces and their cultural significance is in itself one of uncovering layers—certain stories are privileged over others; some information is easy to find, while some requires ample digging; certain people are celebrated, while other names are forgotten. By moving through the layers of access designed in the box, the audience will unpack layers of early wearable production.
Gendered Experience
The design and development of jewel caskets was premised on a gender binary whereby men made cases for women to store their jewellery, as in the example of the famous Castelli brothers, who made a case for Maria Pia as a wedding gift on her marriage to Luis I of Portugal. Based on this historical construction of gender and the expected role of women in using jewel caskets, audiences will interact with the case in ways remnant of such gender biases (which also persist today). While the intricacies of jewellery boxes (with their hidden compartments, levers, and drawers) might be familiar to some—especially women—many will likely be less familiar with the traditions of jewellery boxes, their hidden compartments, and their cultural significance. In this way, the experience of moving through the kit and engaging with it inherently draws attention to the construction of gender through material culture.
Right now, I'm in the process of narrowing down the design through sketches and 3D modelling in Rhino. I'm hoping a combination of the considerations and decisions outlined above will lead to a design that makes an persuasive argument and does not solely rely on written material to provide instructions on how to engage the kits or how to understand their relevance. In other words, we want to create a jewellery case that makes an embodied, procedural argument that the audience experiences as they assemble the kit. The design decisions listed here are four components that should help us communicate the relevance of Trouvé's electric jewellery in the contexts of gender, manufacturing, access, and material culture.
---
Post by Nina Belojevic, attached to the KitsForCulture project, with the fabrication tag. All images in this post care of Nina Belojevic.