As part of our "Hello World" project, and with support from the Electronic Textual Cultures Lab and the Digital Humanities Summer Institute, Edmond Y. Chang will be visiting the University of Victoria on Monday, March 10th to give a public talk (at 1:30pm, in David Turpin Building A104) on "Queer Games, Straight Design." Later that day (at 3:30pm, in the Maker Lab), he will also be conducting a workshop, on "Close Playing Race, Gender, Sexuality." A poster for the talk and descriptions for each event are below. The poster is available in PDF and PNG and was designed by Jon Johnson. Please note: while the talk is open to the public, registration is required for the workshop, which is limited to ten participants (or the first ten people who email maker@uvic.ca). Thanks to Ed for taking the time to visit us here at UVic. We're looking forward to it.
Edmond Y. Chang is an Assistant Professor of English at Drew University in Madison, New Jersey. His areas of interest include technoculture, gender and sexuality, cultural studies, video games, popular culture, and contemporary American literature. He earned his Ph.D. from the University of Washington, and his dissertation is entitled "Technoqueer: Re/con/figuring Posthuman Narratives." He has extensive teaching experience at the university level and won the K. Patricia Cross Future Leaders Award in 2011 and the UW Excellence in Teaching Award in 2009.
"Queer Games, Straight Design" | Monday, March 10th, 1:30pm, David Turpin Building A104
Is it possible to create a queer video game? What constitutes a queer video game? And are video games already queer? This presentation takes up the problematic (im)possibility of queer games beyond queerness as window dressing, as simply LGBT-skinned plot, character, or subtext. In other words, video games in many ways are normative, structured, and deeply protocological even as gamers and game developers evince their promises of power, freedom, play, and agency. This presentation explores how the binary, algorithmic, and protocological underpinnings of both game programming and design constrain and recuperate queerness, and more importantly, imagines the queer possibilities in queergaming—the happy accidents, glitches, workarounds, even failures that open up alternative practices, opportunities, and endgames. In other words, how might we imagine ways of playing against the grain and ways of designing gamic experiences that foreground not only alternative narrative opportunities but ludic ones as well?
"Close Playing Race, Gender, Sexuality" | Monday, March 10th, 3:30pm, Maker Lab in the Humanities
Video games are not perfect magic circles of play, they are not completely separate from the "real world," and for many game scholars, it is the intersection of game, developers, players, and the dominant culture that demands attention. In this workshop, we will take up "close playing" to look at and unpack race, gender, and sexuality in games. Close playing, akin to close reading, requires critical attention to game narrative, game mechanics, game design, and play as both an embodied and social experience. Close playing also requires a certain distance from the game and from play, a conscious disruption of the interactive and immersive fantasy. Close play reveals that the magic circle is always, already blurred or broken.
Registration is required for this workshop, which is limited to ten participants. To register, simply send an email to maker@uvic.ca.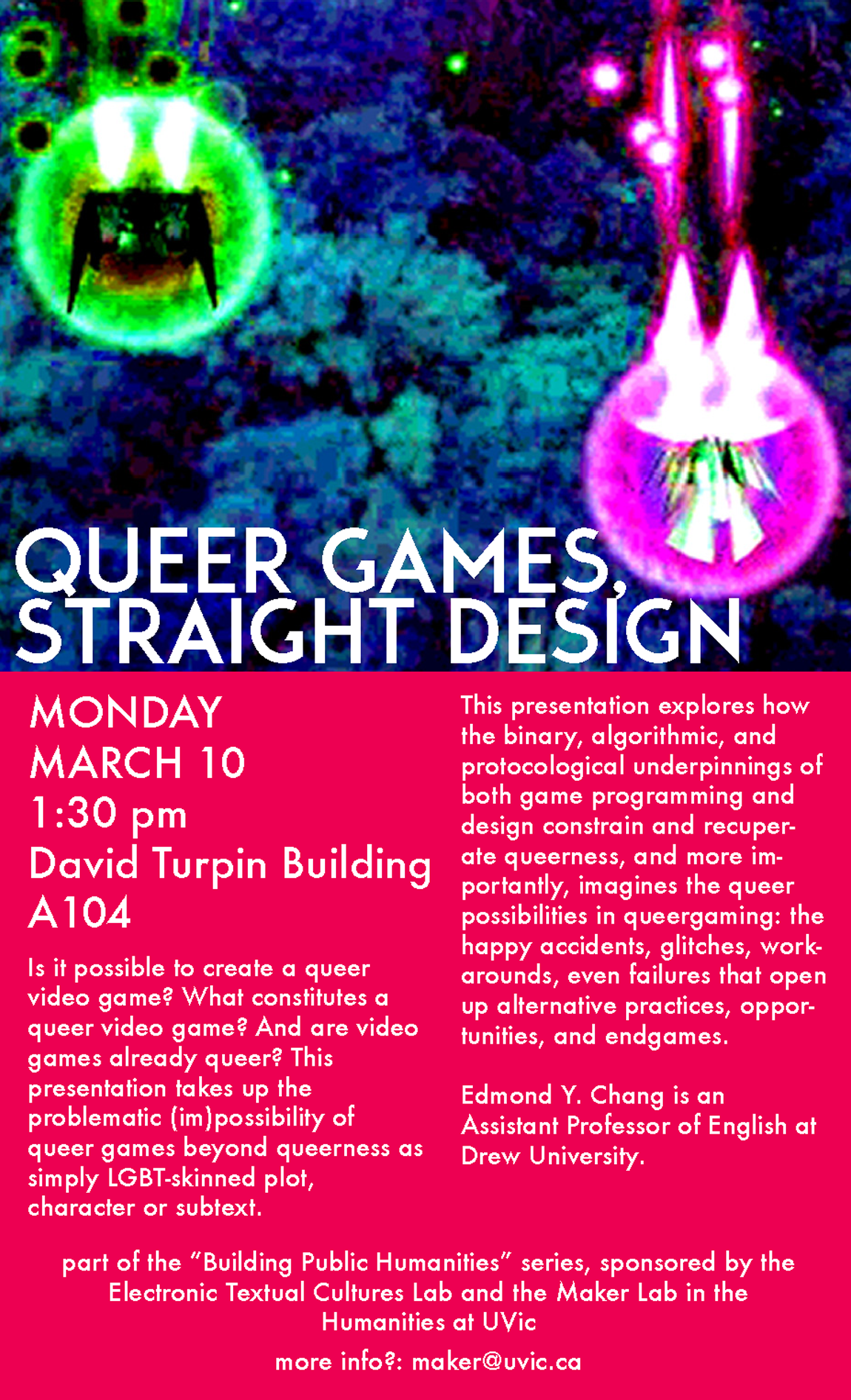 ---
Post by Jentery Sayers, attached to the HelloWorld category, with the news tag. Poster for the event care of Jon Johnson.